SunSmart City™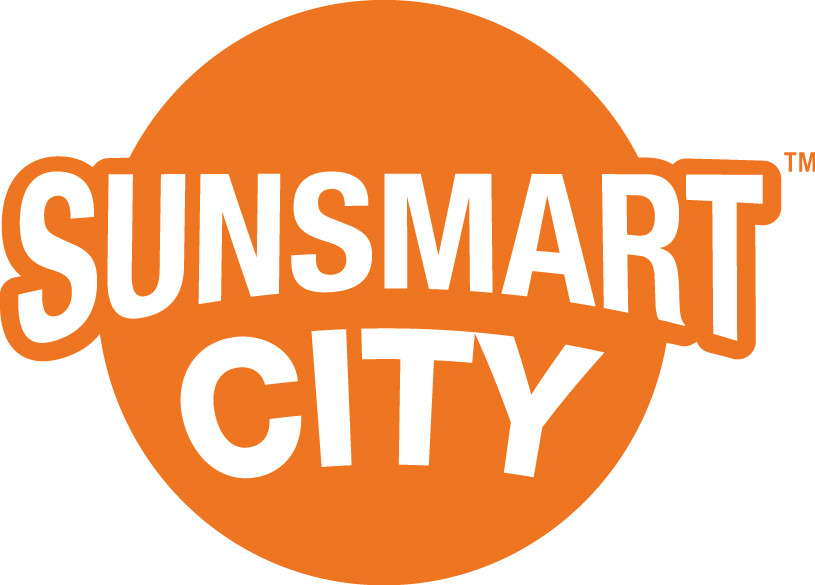 BECOME A SUNSMART CITY!  Montclair, New Jersey became the first SunSmart City, making it the SunSmartest Town in America as declared by the US Deputy Surgeon General, RADM Boris Lushniak, MD, MPH on Monday May 4th (Melanoma Monday).  The SunSmart City program employs the recommendations presented in the Surgeon General's Call to Action and transforms the town to a community that encourages people to live a sun smart lifestyle. Montclair is acting as a model community for the rest of the country to see the program "in action".
Scope of Project
Montclair is the first multi-component SunSmart Community in the Nation. The Live SunSmart Foundation took on the role of Project Manager for this town-wide initiative which raises awareness of the need for sun protection every day of the year. The Surgeon General's Call to Action to Prevent Skin Cancer calls on partners in prevention from various sectors across the nation to address skin cancer as a major public health problem. No other community has yet committed to transform their town as per the Surgeon General's recommendations at the pace Montclair has and no one entity can do this alone. This project had the support and collaboration of the Township of Montclair, Montclair Board of Education, Montclair State University and other stakeholder, all of whom were critical in the success of this initiative.  You can do it too.
We were thrilled to announce that Veronica Stigeler-Cowher, pka Queen V, a Montclair native, "came home" to Chair the project.  We were also honored and enthused to welcome Deputy US Surgeon General, RADM Boris Lushniak, MD,MPH who was in Montclair to unveil the "SunSmartest Town in America".  The celebration was kicked off by an honorary tree planting and  "ribbon-cutting" ceremony followed by a reception on Monday, May 4th – Melanoma Monday. 

 see how we Celebrated! 
How do you make a SunSmart City ?
We took on the then Surgeon General's challenge and brought his vision to life. The program is designed with a 360-degree approach providing educational and awareness messaging and shade opportunities throughout the Montclair ecosystem. This included:
Providing shade opportunities in parks, ball fields, schools and shopping districts;
Policy changes to include worksite education and sun protection guidelines;
School curriculum on sun protection and UV exposure in classrooms grades K-8;
School policy amendments to allow the use of sunscreen and requiring that parents be advised;
Partnering with existing health and wellness organizations to include skin health as a topic;
Working with the business community to expand the sales cycle of sun protection accessories and supplies to a 12-month period by making sun protection accessories available year-round;
Offering sun safely and awareness certification to lifeguards, coaches, camp counselors, etc;
Providing more convenient access to sunscreen;
Planning Board amendments to include shade guidelines in new construction projects;
Collaborate with the Y, scouts and other youth organizations to educate them and get them involved in volunteerism;
Partnering with Mountainside Hospital;
Monitoring and surveying to measure the effectiveness through a partnership with Montclair State University's Public Health Department.
View our presentation for more information on the scope of the project and its stakeholders:
Scalable project
The Live SunSmart Foundation is available to advise local governments on how to create their own SunSmart City Community. Montclair is the first SunSmart City in the Nation and because of that has been declared the "SunSmartest" town in America.  Montclair can be used as the pilot program for other cities to emulate. The Live SunSmart Foundation has drafted a "Playbook" that can be downloaded and implemented so that other municipalities across the country can easily execute their own SunSmart City Community-wide initiative.
SunSmart City Resource Library
Opportunity for all to get involved
Funding for this project requires a collaborative effort. The managing organization should apply for grants as well as create proposals for corporate sponsorships.
For those who want to support this initiative, this is an excellent opportunity to contribute as a commercial investment from your company as well as providing value through your corporate responsibility program executed using several approaches. Obviously, the commitment to the community will build goodwill and create a positive association with your brand but there are other, more traditional marketing opportunities available as well, including:
Sunscreen Misters – Machines will be strategically placed throughout town to conveniently provide access to sunscreen. These single-serve spray booths can include advertising "wraps" as well as :15 and/or :30 second video commercial that will be interspersed with educational messages and sprayer instructions.
Media Exposure – As an innovator, you are sure to attract media attention. The local weekly and daily papers should take a vested interest in communicating this vital program.
Social Media – Live SunSmart, the Municipality as well as the other stakeholders should constantly push out messages regarding the program and your supporters can be tagged as well.
Sponsor Recognition – Participating partners will be included in the video spot that will be posted on appropriate websites as a demonstration of a good "SunSmart" community. Partners will have a :15 pre-roll on this video. Partners will also have the ability to post signage in appropriate locations to be recognized as a contributor to this health and wellness initiative.
Get Involved
If interested in becoming a corporate sponsor, a grantor or a community volunteer, please contact us.
Grantors
The SunSmart City program would not be possible if not for the support of our generous Grantors:
This initiative is brought to you in cooperation with: